Gunnar Öhrn
I did my military service on this bridgelayer. The vehicle (Brobv-941) was manufacured by Hägglunds in Örnsköldsvik.
The bridge is 16 meters long and 4 meter wide. The bridgelayer is 4 meters high with the bridge on top.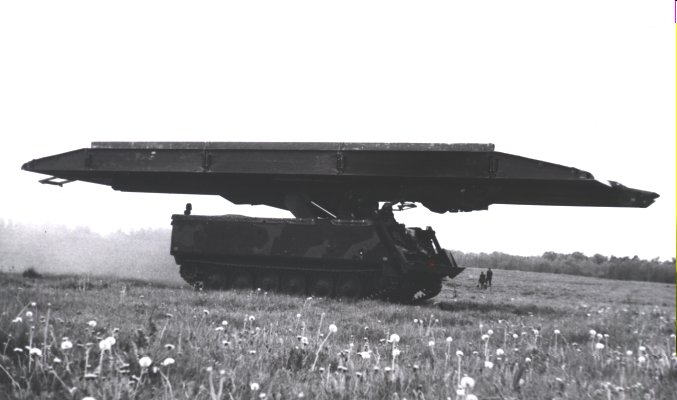 I got my first diving certificate 1970 in Mariestad, later on I got a certificate from Svenska Sportdykarförbundet (Swedish Sports Diving Association) SSDF and CMAS. I was an active member of Märsta Sportdykarklubb (MSDK) between 1976 and 1985, a couple of years as Chairman of the board and quite a few years as instructor. I also graduated for Svenska Sportdykarförbundets 1 class-certificate in 1980.
We also played underwater rugby. I was also a member of Upplands Sportdykarförbunds board for a number of years.
In 1981 I started dancing Square dance with Run Dancers in Upplands Väsby.
In 1985 I was one of the founders of the Square dance club Crazy Flutters, the also have Line dance on their program today.
When I moved to Ängelholm in 1988 I became a member of Helsingborgs Squaredancers,
I ran a number of classes in Ängelholm, for beginners and for DBD-dancers, and was also a member of the board for a few years.
I was a member of Dataföreningen Sverige, DFS, ("Swedish computer association") where I hosted the IT security club for the southern district of DFS.
I have been a genealogist since about 1980.
I have worked for

between 1988 and 2022 when I retired. July 22, 2016 Saab AB bought Kockums and renamed it to Saab Kockums AB